"We in Australia have but a poor idea of the extent of which the motor car is being utilised in the old world... In France it is different. There the 'Automobile' is the fashion ... On the boulevards are to be seen hundreds of motors. ...The ladies, who form a proportion of the 'carists', attire themselves in special costumes, mostly of bright colours, and the rapidly-moving vehicles, with their vivacious occupants, make a striking picture..."

"Physicians in many of the leading towns find the electric buggies cheaper, faster, and more reliable than the horse-drawn vehicles; tradesmen dispense with stables and feed bills … and the farmers … convey their produce to market. While America will, within the next couple of years, become the motor country of the world, France at present holds that position, the devotees of the pastime having formed clubs for mutual advancement in the art of controlling their horseless vehicles. ...the Automobile Club de France … has 1782 members, and much of the progress of automobilism in France is due to its work."
The Daily News, 9 September 1899
So began the reign of the motor car...
"Mr Deane said that about 1901 the motor car was a great curiosity, and crowds of people clustered around a car when it came to a standstill. A driver was looked upon as a daring man and the motor car as something dangerous."
The Daily News, 14 June 1934
On Saturday afternoon 28 January 1905, when the revolution of the motor car was beginning to ripple across WA, Richard and Bebe Strelitz opened their home 'River View', on the block bounded by Bay View Terrace, Palmerston and Glyde Streets, Buckland Hill (now Mosman Park, now demolished). A genteel crowd of 40 attended (25 men, 15 women), all with a shared and determined interest to establish a motoring club.
"Saturday was an ideal day for al fresco enjoyment, and 'River View' is an ideal home, consequently the two hours spent on the wide verandahs overlooking green lawns and flower plots, listening to the strains of the German band, were ideally spent. On one side of the lawn a row of [25] motor cars gave an up-to-date appearance; while Nature's panorama of undulating ground sloping down to the river, dotted here and there with red-tiled houses, with belts of native trees fringing the landscape against the horizon on either side, and then the river itself, bearing on its bosom the white-winged craft, gleaming under gloriously genial sunshine, made one forgot the worries, the contentions, the jars of daily life, and in this oblivion the ladies of the party were content to sip their afternoon tea, while the menfolk gathered together and formed the proposed club."
The Daily News, 30 January 1905
With Alfred Morgans MLA elected chairman, and solicitor James Speed MLC elected secretary, Dr Owen Paget proposed and James Speed seconded the formation of the Automobile Club of Western Australia, and that all present would become members of the newly-formed Club.
"The business finished, the gentlemen joined the ladies on the lawns, and a photograph was taken before the homeward start was made."
The Daily News, 30 January 1905
Those listed as present at that first meeting were:
Mr and Mrs Richard Strelitz
Mr Alfred Morgans, MLA
Dr Thos and Mrs Anderson
Dr and Mrs Owen Paget
Dr and Mrs John Campbell
Mr James Thompson
Mrs Euphemia Lane
Mr Alexander Lane
Miss (Annie?) Albrecht
Mr Arthur Lovekin

Mr and Mrs James Speed
Miss (Myrtle?) Conway
Mr and Mrs Syd Day
Dr Arthur Badock
Mr and Mrs Cecil Dent
Mrs Helena Underwood
Mr and Mrs Percy Armstrong
Mr and Mrs Hessay Mosey
Miss Emma Hocking
Miss Stella Taylor
Dr John Cuthbert
Dr Athelstan Saw
Dr Frank Tratman
Dr Paget Thurstan
Dr James Ramsay
Dr Walter Blaxland
Mr Clayton Mason
Dr William Dermer
Mr Timothy Quinlan
Mr Claude Deane
Mr W Herbert de Lisle
The Club's First Official Event
On 1 July 1905 an 'opening run' was held, beginning at Government House at 3pm. On entry each member was presented with the Club's colours, red and white.
"...and as the hour struck there were over a score, ranging in size from a huge Argyll to the small Oldsmobile built for two,
the latter of which were in the majority. The engines of the automobiles were noisily 'chug-chugging' as if impatient to be away,
as His Excellency the Governor briefly congratulated the members on so successful an inauguration of the club,
and wished it every success. Three cheers were then given, after which several photographs were taken,
and the procession moved off."
The West Australian, 3 July 1905
Gathered at Government House for the first Club run, 1 July 1905. Courtesy RAC Archives.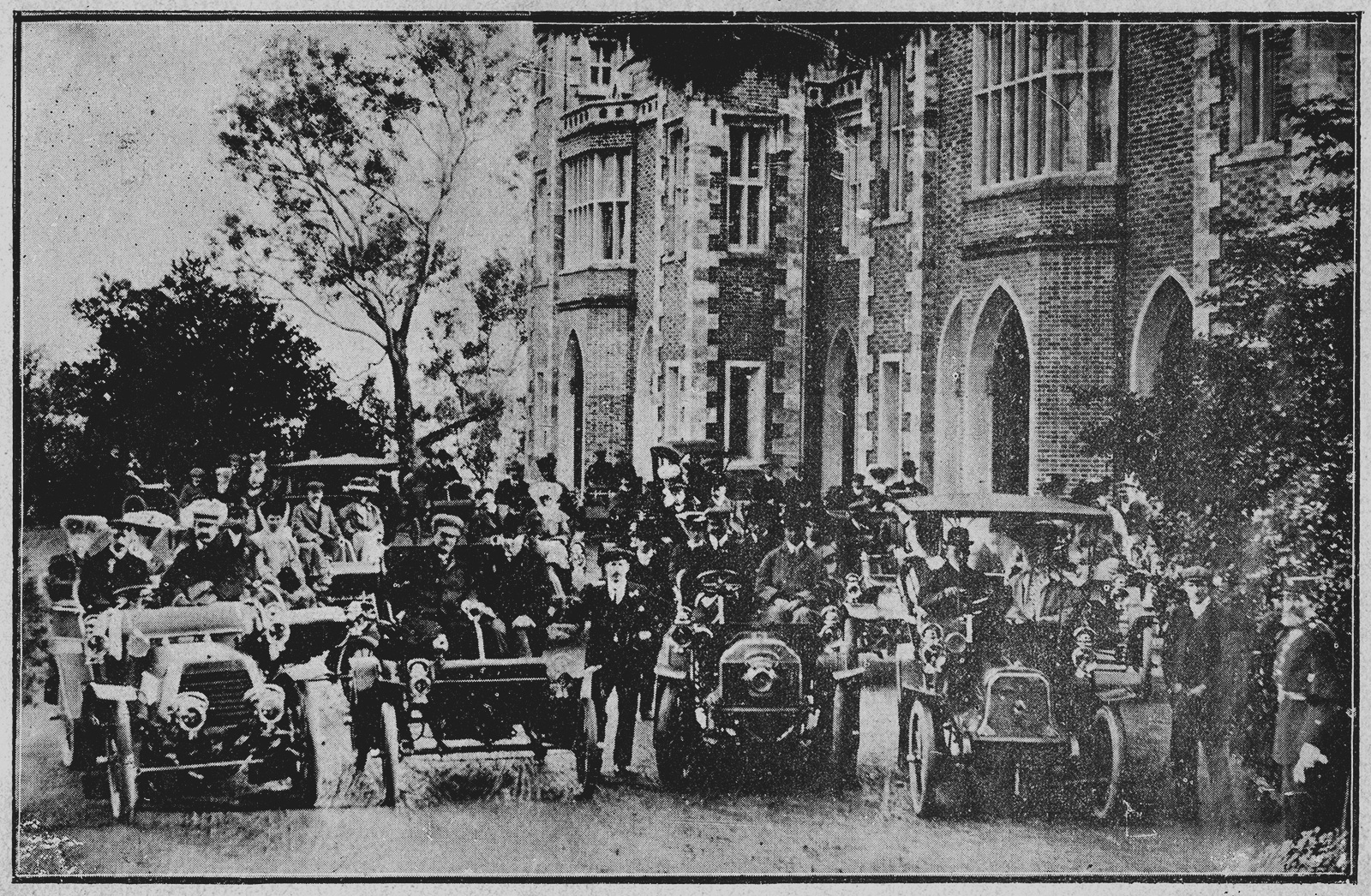 It was a fine day and though rain threatened, it held off, and at 3.15pm they proceeded along St George's Terrace to Milligan Street, up Hay Street to Havelock, through Kings Park Road and then, 'via the old road', to Vice President Richard Strelitz's home in Mosman Park. The West Australian of 3 July 1905 reported "the ride was deliciously exhilarating, and everyone thoroughly enjoyed it." Club members paused there before the returning to Perth, where President Alfred Morgans entertained them with afternoon tea at the Palace Hotel.
The Governor, Admiral Sir Frederick Bedford GCB (not Sir Gerard Smith), in Club President Alfred Morgans' 1903 Curved Dash Oldsmobile, at the start of the Automobile Club of Western Australia's first run, Saturday 1 July 1905. Courtesy RAC Archives.
According to Percy Armstrong, in his comments in The Motor Car in Western Australia, by the end of 1905 the number of members had risen to 64, but had fallen to just 40 by 1907.
"The decrease is due not to any falling off in the number of motorists, but mainly to the fact that many of the battles which have had to be fought in every country have been won here, by the early efforts of the club, and there no longer exists the imperative call to write for mutual protection, as in the early days."
The Motor Car in Western Australia, 1908
The Club soon recovered, and its annual increases in membership since 1905 were reported in The West Australian of 27 February 1930. In 1922 it more than doubled, due not only to exciting reliability trials, hill climbs and petrol consumption tests, but also a report in The Sunday Times of 19 March 1922, that "the local Automobile Club of WA can now prefix 'Royal' to their name."
Membership Numbers
1905-1906

1906-1907

1907-1908

1908-1909

1909-1910

1910-1911

1911-1912

1912-1913

1913-1914

1914-1915

1915-1916

1916-1917
32

41

59

81

76

96

115

175

225

296

302

349
1917-1918

1918-1919

1919-1920

1920-1921

1921-1922

1922-1923

1923-1924

1924-1925

1925-1926

1926-1927

1927-1928

1928-1929
401

442

471

518

660

1346

1717

1607

2494

5335

8116

10168
"In 1915 the club … also had its branches in Bridgetown, Albany, Katanning and Kalgoorlie. It was this year the official badge was struck which remains to this day with the original black swan as an emblem."
The Story of Australian Motoring, by Keith Winser (1955)
By 1930 RAC membership was at more than 11,000. Today, it stands at more than one million, and is one of the most trusted entities in Western Australia.